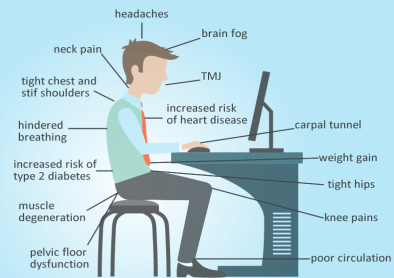 Use Ergonomic Office Chair or Work Standing
Investing in an ergonomic office chair or just standing while working? Which way could promote a healthy working style and do less harm to our body? And which way could let our soft neck and waist to suffer less? The answer is both. It depends on whether you prefer sitting or standing in the office.
Nowadays sitting is regarded as new smoking. While it can be pretty useful in helping us concentrate on the job at hand, getting pains and feeling dizzy seems to be all too easy. Lots of white collars have problems with spending too much time on the poorly-designed office chair, which could lead to more serious health problems down the road, to the dismay of both employers and employees.
Ergonomic Office Chairs Help a Lot
Ergonomic chairs are far better any other poorly-designed office chairs. Not only for staff in office rooms it is good for anyone who spent their time sitting for a long time. The ergonomic office chair has unique and better quality features.
But, you have to choose the right ergonomic chair as there is a number of products available on the market. Check the design, features, capacity, support system, adjustable features and price of the chair before buying it.
What are the Distinctive Features of a Good Ergonomic Office Chair?
Seat Height:

Choose the chair whose leg height can be adjusted, so that you can adjust it to fit your height and needs. Generally, the height of 16 to 21 inches would fit most people and makes them feel at ease while working.
Seat Depth:
Choose a chair with the last seat so that any people can sit in the chair with maximum comfort. A standard ergonomic office chair would range from 17 to 20 inches; this allows people to sit with more comfort. Similarly, note whether the forward and backward tilt is adjustable.
Lumbar Support:
Since the condition of the lumbar is so crucial for everybody's health, lumbar support is the most important thing in choosing the ergonomic office chair, purchase an office chair that can support your back correctly with inward curve and the lumbar support is necessary, so that there are no chances for slouching. Ergonomic office chair with the lumbar adjustment is just made to promote your lumbar health.
Backrest:
A good ergonomic office chair will have the broad range of 12 to 19 inches and comes adjustable so that you can make it according to your needs. Choose the chair with the backrest that supports the natural curve of your spine and also to your lumbar region.
Material:
Choose the chair with the high-grade premium quality for the chair to come for long periods, the chair should be enough padded to provide the comfort while sitting in the chair. And remember to choose a chair with breathability.
What are the Benefits of Investing in Ergonomic Office Chair?
Once you are aware of the distinctive features of a perfect ergonomic office chair, you will be eager to choose the right one for your employees and yourself. And here we provide some benefits of choosing the right ergonomic office chair, apart from avoiding disease mentioned above.
l Reduces potential multiple health risks.
l Makes your working time run more smoothly.
l Helps you in getting the right posture and let it become a habit.
l Swivel feature enables you to move around without getting up from the seat.
l Padded seat provides deeper support to your buttocks and hips, as well as the whole body.
l Reduces the neck problems caused due to prolonged sitting with the help of the neck support.
l Much more user-friendly and comfortable, individuals with any height and weight can use the chair with no problems at all.
A Height-Adjustable Desk is in Great Need
The design of a normal desk chair means that it's made with a fixed height, normally around 30 inches. Office seats have lifters so it can be raised for several inches more. But you're still going to end up working seated, maybe with your legs folded, uncomfortably, and lost the ability on stretching out or move while working.
But hold on, is it possible to change the height of your desk so as to work standing?
Definitely, yes.
So you put some stuff under the table leg, but soon discover it could be hard to keep the balance and it may be even harder when others want to use the table since everyone is different in height.
It's for these reasons that lots of professional height-adjustable desk have been designed and launched in recent years, allowing us to embrace truly interactive stand working, or even semi-stand working.
This height-adjustable chair, especially the electric ones, differ in two major ways.
l First, they have the ability to adjust over a far wider height range and so take care of both traditional sitting and semi-stand working.
l Second, and crucial to supporting you while working half standing the seat pad is designed to tilt to provide safe and comfortable support.
KEYWORDS:
2. Using Ergonomic Chair or Working Stand
4. Ergonomics and Computer Addicts