How does An Office Chair Come into Being
Views: 120 Author: Site Editor Publish Time: 2018-07-01 Origin: Site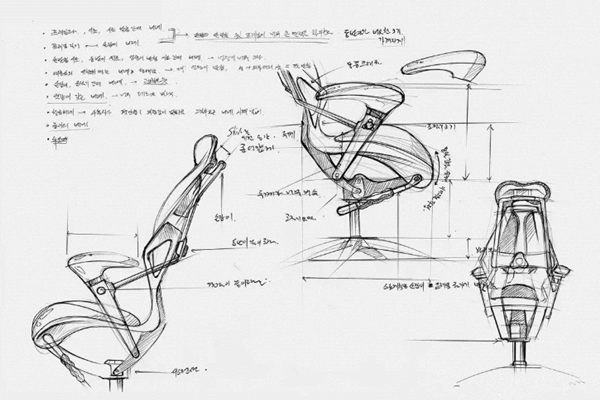 The Composition of an Office Chair
In general, the office swivel chair can be divided into three series of large chair, middle shift chair and staff chair. The structural composition of each series of office swivel chair is not the same. Among them, the chair structure mainly includes a high backrest, casters, a soft seat cushion, a five-star foot, a functional chassis, air bars, and armrests. The middle shift chair structure mainly includes low backrest, casters, soft cushions, five-star feet, functional mechanism, and gas lift;
The staff chair structure mainly includes low backrests, casters, soft seat cushions, five-star feet, functional mechanism, and gas lift; Each structural component has its own characteristics and its own features, are indispensable.
1. Backrest
The backrest generally consists of a steel frame or a plastic frame and a breathable mesh.
2. Casters
Casters can be divided into ordinary casters and PU casters, of which PU castors are more suitable for wood floors.
3. Soft cushions
The three parts of the board, the fabric and the sponge constitute a soft seat cushion.
4. Five-star Feet
Most office swivel chairs use five-star feet, and the materials mainly include iron chrome and aluminum alloys. The iron chrome plating structure is relatively stable, but the bottom is prone to rust, while the aluminum alloy structure is strong. If only the polishing treatment is performed, the surface will change for a long time.
5. Functional Mechanism
The chassis is the part that holds the base and the lower part is connected with the air rod.
6. Gas Lift
Air bars are also known as lift bars and can be used to adjust the height and rotation of the swivel chair.
7. Base
The thickness of the iron frame directly affects the service life of the chair. Surface treatment: spray paint, paint (surface gloss, not easy to paint),
electroplating (wood frame can not be electroplated). If the chair is well-plated, it is hard to get rusted.
8.Mech
Hold up the seat part and connect it with the air rod below.
9. Back Seat Connection (Corner)
The seat and back are separated and are connected by steel or steel plate. The steel plate is usually 6mm or 8mm thick. However, steel plates with a width of less than 6cm must be 8mm thick.
Basically speaking, the structure of the office swivel chair includes the above sections. Some swivel chairs also include headrests, armrests, and other components. The purpose is to improve the comfort of the swivel chair. kabel advises everyone to consider a few things when choosing an office swivel chair. If you belong to a person who loves sweating, try to choose a mesh swivel chair instead of a leather fabric. Also consult the parameters of the swivel chair in detail, whether it can be lifted, whether the backrest can be adjusted, and after-sales service, etc. Only in this way can a suitable chair be selected.