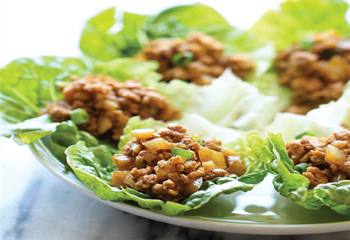 What the heck should I choose for lunch when I go to work? Maybe this is the question which was asked most frequently. As far as we are concerned, homemade food is a healthy and wise option for you. Here we explore 5 kinds of WRAPS for you to choose.
Chicken Lettuce Wraps
INGREDIENTS:
1/4 cup hoisin sauce
1 tablespoon olive oil
1 pound ground chicken
1 onion, diced
1 tablespoon rice wine vinegar
1 tablespoon freshly grated ginger
1 tablespoon Sriracha, optional
1 (8-ounce) can whole water chestnuts, drained and diced
1 head butter lettuce
2 cloves garlic, minced
2 tablespoons soy sauce
2 green onions, thinly sliced
Kosher salt and freshly ground black pepper, to taste
DIRECTIONS:
1.Heat olive oil in a saucepan over medium high heat.
2.Add ground chicken and cook until browned, about 3-5 minutes, making sure to crumble the chicken as it cooks; drain excess fat.
3.Stir in garlic, onion, hoisin sauce, soy sauce, rice wine vinegar, ginger and Sriracha until onions have become translucent, about 1-2 minutes.
4.Stir in chestnuts and green onions until tender, about 1-2 minutes; season with salt and pepper, to taste.
5.To serve, spoon several tablespoons of the chicken mixture into the center of a lettuce leaf, taco-style.
BLT Wraps
INGRADIENTS:
1 pound thick sliced bacon, cut into 1 inch pieces
4 (12 inch) flour tortillas
1 cup shredded Cheddar cheese
1/2 head iceberg lettuce, shredded1 tomato
DIRECTIONS:
1.Place bacon in a large, deep skillet.
2.Cook over medium-high heat until evenly brown.
3.Drain, and set aside.
4.Place 1 tortilla on a microwave-safe plate. Sprinkle tortilla with 1/4 cup cheese. Cook in microwave 1 to 2 minutes, or until cheese is melted.
5.Immediately top with 1/4 of the bacon, lettuce, and tomato.
6.Fold sides of tortilla over, then roll up.
7.Repeat with remaining ingredients.
8.Cut each wrap in half before serving.
Chicken Caesar Wraps
INGREDIENTS:
1 cup chopped romaine lettuce.
1 slice thick cut bacon, cooked and crumbled.
1/2 cup cooked, shredded chicken.
2 tablespoons Caesar dressing*
1 tablespoon Parmesan cheese.
1/4 cup croutons.
1 large flour tortilla.
DIRECTIONS:
1.In a bowl, combine the romaine, bacon, chicken, dressing and Parmesan.
2.Stir to combine.
3.Roughly chop the croutons, then stir them into the filling mixture.
4.Microwave the tortilla for 10-15 seconds so that it will be easy to roll.
5.Spread the lettuce mixture down the middle of the tortilla.
6.Fold in the two sides of the tortilla, then roll up like a burrito.
7.Cut wrap in half to serve.
Roast Beef Wraps With Dill Slaw
INGREDIENTS:
1/4 pound sliced dill-flavored havarti cheese
1/4 cup chopped fresh dill
1/4 teaspoon sugar
1/4 cup mayonnaise
1/2 pound deli-sliced roast beef
1 tablespoon white wine vinegar
2 tablespoons sour cream
2 tablespoons horseradish, drained
3 cups shredded coleslaw mix
4 whole-wheat wraps
Kosher salt and freshly ground pepper
Vegetable or potato chips, for serving (optional)
DIRECTIONS:
1.Make the slaw: Toss the coleslaw mix, dill, vinegar, sugar, mayonnaise, sour cream, horseradish, 3/4 teaspoon salt, and pepper to taste in a bowl.
2.Layer the cheese, roast beef and slaw in the center of the wraps.
3.Fold in the sides, then roll up tightly.
4.Cut in half and serve with chips, if desired.
Spicy Fish Wraps
INGREDIENTS:
1 teaspoon cumin powder
1 teaspoon chili powder
1 teaspoon garlic powder
Salt and pepper to taste
4 fish fillets (any white fish like cod, mahi mahi, halibut)
2 tablespoons olive oil
12 corn tortillas , warm
2 tablespoons chipotle mayo (store-bought or simple recipe in notes)
Fresh lime juice
Tomato , chopped
Red cabbage , thinly sliced
Cilantro , roughly chopped
Lime wedges for garnish
DIRECTIONS:
1.Combine the cumin, chili powder, garlic powder, salt and pepper in a small bowl. Lay the fish fillets on a clean work surface and sprinkle the spice mix evenly over each filet, rubbing it on all sides.
2.In a non-stick skillet set over medium-high heat, heat 1 tablespoon of oil. Add 2 of the fish fillets and cook, undisturbed, about 4 minutes.
3.Flip the fillets and cook for another 4 minutes.
4.Transfer to a plate. Add the remaining tablespoon of oil to the pan and swirl to coat.
5.Repeat the cooking process with the remaining 2 filets. Set aside.
6.Make chipotle mayo using the recipe in notes.
7.Using a fork, shred the fish fillets.
8.Divide into 12 corn tortillas, top with red cabbage, tomato, cilantro, and chipotle mayo.